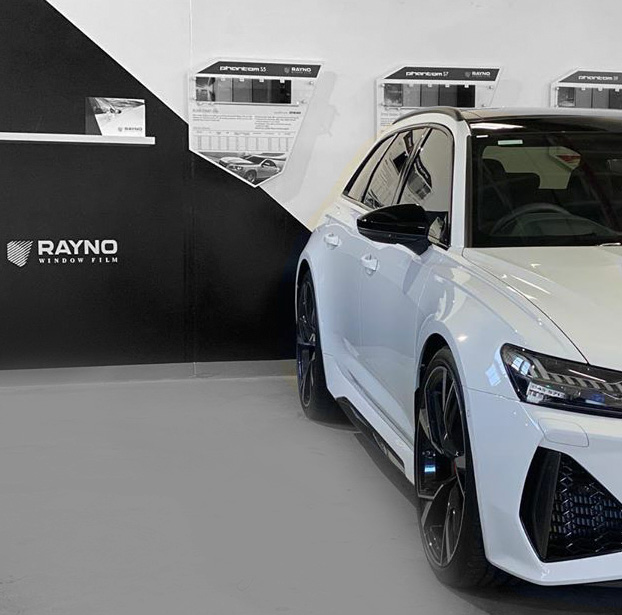 Premium

Window Tinting in Sydney
There are many benefits to tinting the windows of your car, from UV Protection, Reducing Heat, Privacy, Reducing Glare and Aesthetics. Our range of premium quality window tinting films such as
Rayno
,
Suntek
and
Global
all come with manufacurers
Lifetime Warranties.
Our Window Tint Films reject 99% UVB and UVA, the darker the film the higher the heat reduction. So you can be rest assured you will get superior UV Protection and Heat Reduction if you install any of these films.
NSW Legal Limits
Passenger vehicles have a legal limit of 35% on the 2 Front Doors, and 20% on all Rearward Windows. This is the darkest shade allowed. Goods-carrying vehicles such as vans, trucks and utilities have no legal limit rearward from the driver. It is illegal to apply window film to the front windscreen on any vehicle.
Competitive
Pricing
We provide competitive and fair pricing for premium quality window tint in Sydney, with many different size cars and window film options we will help you find a product that suits your needs and budget.
Our
Brands
At Oztint, we only use the best quality window films on the market such as
Rayno
,
Suntek
and
Global
, these Nano Carbon Ceramic Films offer the best possible protection from UV, Heat, backed by a manufacturers Lifetime Warranty!
Tinting
Benefits
UV Protection
Reduce Heat
Privacy
Reduce Glare
Safety
Purchased a New Car?



Window Tint & Protection Packages Available!
Rayno Window Films
Rayno's Phantom series is the world's first carbon ceramic film developed with a patented formula that exceeds competitor standards for optimal film performance. Nano-scaled carbon particles provide top notch color stability without sacrificing clarity, while nano-encapsulated ceramic particles give lasting durability and outstanding heat rejection.
Suntek Window Films
SunTek offers two product lines featuring carbon technology: the CXP Series and the Carbon Series. For enhanced performance demands and luxury vehicles, we recommend the CXP Series' non-metal, nano-hybrid carbon technology. No matter which series you choose to install, be confident in the tint's ability to stand the test of time.
Global Window Films
The ultimate automotive window film from Global has it all: great looks, impressive performance and the protection of a lifetime limited warranty. Global QDP Ceramic incorporates ceramic technology to produce a metal free, color-stable window film that is ideal for demanding automotive enthusiasts.
Advantages
Advantages
of
Our Service
We strive to deliver the very best in Window Tinting and Car Protection Packages.
Get a Quote
Customer-Oriented Service
We value our customers, and take the time to explain the range of window tinting films on the market, and thoroughly explain the process so you can make the right choice that suits your needs.
Affordable Prices
With our streamlined process and highly trained technicians we provide a service that is efficient and affordable, with a range of window tinting films to suit your budget.
Guaranteed Quality
Our strong reputation spanning over 40 years means you can be rest assued that we provide the highest quality and stand behind our work.
Schedule
Schedule
Your Appointment

Today

Your Car Window Tinting and Protection Specialist in Sydney.
02 9745 5713